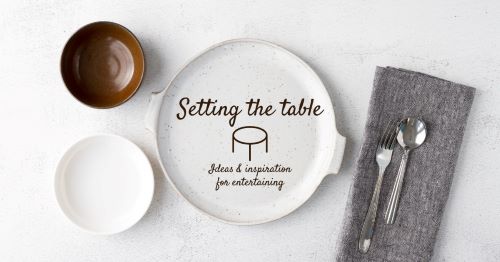 Whether you're planning a party or simply want to add some extra style to your dining room, it can be difficult to come up with a table setting idea. Beyond the basics - silverware, dishes, glassware - the number of options available can be overwhelming.
If you're not sure where to begin your table setting design journey, here are some basics to guide you:
Don't overthink your centerpiece
The centerpiece is the focal point of a stunning table design. However, it doesn't need to be enormous or elaborate. A simple flower arrangement or votive candles serve well as centerpieces and can tie an entire design together.
When designing a centerpiece, keep dining logistics in mind. Too large of a centerpiece can make the table feel cramped, and too tall a centerpiece can hinder conversation and visibility.
Have the essential table linens
The basic types of linens you'll need to know include tablecloths, table runners, napkins and place mats. You can use matching sets for a simple solution, or create your own collection to mix and match. Maintaining a cohesive color palette allows for more freedom to combine different textures and patterns.
Keep cleanup in mind
In addition to choosing the correct size and shape suitable for your table, you'll also want to consider factors such as cleaning requirements. Easy-care fabrics won't cost a fortune at the dry cleaners, and fabrics with patterns can hide stains more easily.
Add dimension & style
There are plenty of ways to enhance your table setting beyond the basics. One great tip is to draw inspiration from artwork or decor in your dining room or kitchen. Carry a common motif, hue or texture throughout the table setting for instant aesthetic appeal.
Create interest with varying heights
Experimenting with height is another way to enhance otherwise drab place settings. For example, try pairing tall, narrow stemware with low-profile dishes. Combine organic shapes with hard angles to create balance while also making a bold statement.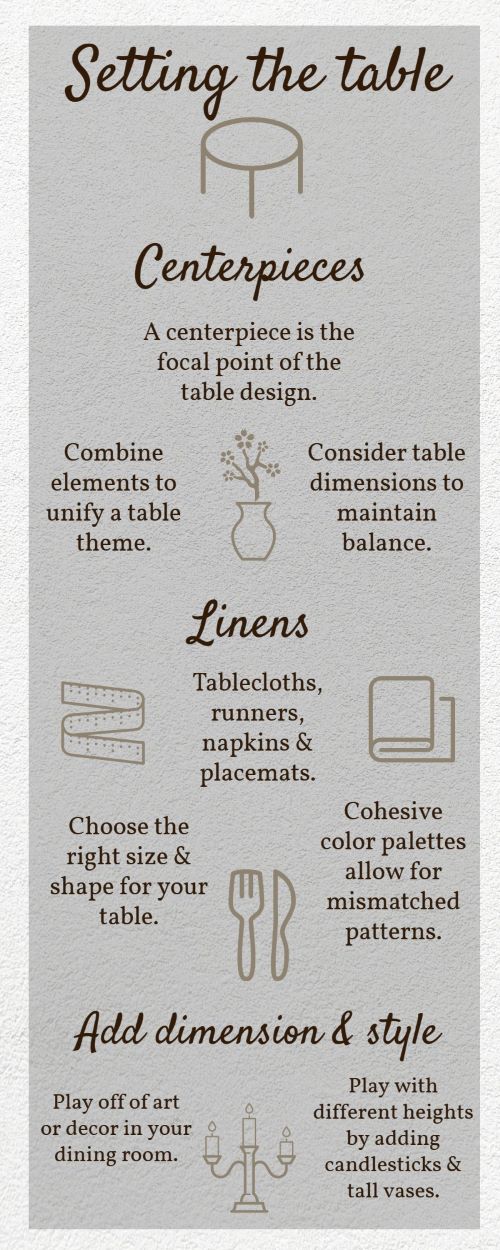 Once you know the basics, it's simple to create a beautiful table setting for your next dinner party or event. Keep these tips in mind for a fantastic dining table design.